美国国际集团宣布与美国银行住宅抵押贷款相关纠纷的银行结算
纽约——(商业新闻)——七月十六日,2014——美国国际集团,(纽约证券交易所:AIG)今天宣布,它与美国银行 已经达到了与其在全球的住宅抵押贷款相关的纠纷决议。该决议包括其声称在纽约和加利福尼亚的联邦法院的创作,发行和销售有关未决,人民币从美国国际集团及其附属公司遭受了直接在自己的帐户,或与他们的AIG融券参与计划的相关损耗。决议还包括美国国际集团反对8500000000美元结算公司抵押贷款的各种投资者回购义务 ,以及关于AIG的子公司抵押给美国银行和全国发行的抵押担保保险纠纷。和解条件下,AIG将获得650000000美元的现金加上其相应比例的多少,最终支付给投资者与全国回购结算挂钩。此外,双方约定,受房利美的批准,弗雷迪MAC和其他某些抵押贷款持有人,以解决悬而未决的抵押担保债权纠纷按照约定支付索赔的过程和条款。
"我们 非常高兴解决掉这件事,美国国际集团的董事长兼首席执行官 罗伯特H.本默切这样说到。 对我们各种利益相关者来说 "今天的解决方案是比较公正合理的"
美国国际集团(AIG),公司是一家国际领先的保险组织,为130多个国家和地区的客户提供服务。AIG公司为商业,机构,并通过一个最广泛的全球网络服务任何个人 客户提供财产保险。此外,美国国际公司在美国人寿保险和退休养老服务的领先服务商。美国国际集团的股票在纽约证券交易所东京证券交易所 上市 。
了解更多AIG可以登录www.aig.com |YouTube:www.youtube.com/aig |推特:"aiginsurance |linkedIn:http://www.linkedin.com/company/aig |
AIG是世界财产保险,人寿和退休养老保险广为人知的名字,全称是美国国际集团,主营保险业务,公司的其他信息,请访问我们的网站www.aig.com。所有的产品和服务都是书面或通过子公司或美国国际集团公司提供的产品或服务,公司产品服务可能不会在所有司法管辖区,范围视实际的政策而定。非保险产品和服务可以由独立的第三方提供的。某些财产保险覆盖范围可由合作保险商提供。 合作保险商 一般不参加国家保证金,而被保险人因此没有此类资金的保护。
来源:美国国际集团,公司
美国国际集团,公司
投资者:
丽兹沃纳,212-770-7074
elizabeth.werner@aig.com(
更多全球资讯请点击浏览
)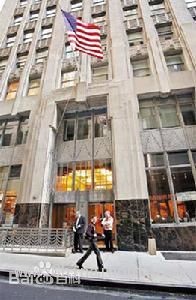 AIG Announces Settlement with Bank of America on Residential Mortgage Related Disputes
NEW YORK--(BUSINESS WIRE)--Jul. 16, 2014-- American International Group, Inc. (NYSE:AIG) today announced that it has reached a global resolution of its residential mortgage related disputes with Bank of America. The resolution includes its claims pending in New York and California federal courts related to the creation, offering, and sale of RMBS from which AIG and its subsidiaries suffered losses either directly on their own account or in connection with their participation in AIG's securities lending program. The resolution also covers AIG's objections to the $8.5 billion settlement of Countrywide's mortgage repurchase obligations to various investors, as well as disputes concerning the issuance of mortgage guaranty insurance by AIG's United Guaranty subsidiaries to Bank of America and Countrywide. Under the terms of the settlement, AIG will receive $650 million in cash plus its pro rata share of whatever amount is ultimately paid out to investors in connection with the Countrywide repurchase settlement. In addition, the parties have agreed, subject to the approval of Fannie Mae, Freddie Mac and certain other mortgage holders, to resolve the outstanding mortgage guaranty claims disputes in accordance with agreed-to claims processes and payment formulae.
"We are very pleased to have this matter resolved," said Robert H. Benmosche, AIG President and Chief Executive Officer. "Today's settlement is a just resolution that's in the best interest of our various stakeholders."
American International Group, Inc. (AIG) is a leading international insurance organization serving customers in more than 130 countries and jurisdictions. AIG companies serve commercial, institutional, and individual customers through one of the most extensive worldwide property-casualty networks of any insurer. In addition, AIG companies are leading providers of life insurance and retirement services in the United States. AIG common stock is listed on the New York Stock Exchange and the Tokyo Stock Exchange.
Additional information about AIG can be found at www.aig.com | YouTube: www.youtube.com/aig | Twitter: @AIGInsurance | linkedIn: http://www.linkedin.com/company/aig |
AIG is the marketing name for the worldwide property-casualty, life and retirement, and general insurance operations of American International Group, Inc. For additional information, please visit our website at www.aig.com. All products and services are written or provided by subsidiaries or affiliates of American International Group, Inc. Products or services may not be available in all jurisdictions, and coverage is subject to actual policy language. Non-insurance products and services may be provided by independent third parties. Certain property-casualty coverages may be provided by a surplus lines insurer. Surplus lines insurers do not generally participate in state guaranty funds, and insureds are therefore not protected by such funds.
Source: American International Group, Inc.
American International Group, Inc.
Investors:
Liz Werner, 212-770-7074
elizabeth.werner@aig.com
or
Media:
Jon Diat, 212-770-3505
jon.diat@aig.com